I was a customer of Mark's long before he started Bee Line. He has always been an honest and knowledgeable mechanic. Since he opened Bee Line in 2005, I have brought all my vehicles to him. I have recommended many of my friends and family to Mark and he has always done a professional job at a fair price. His staff is polite, knowledgeable and helpful. I highly recommend Bee Line!
Shaan S.
Bee Line is the best auto repair shop in town. They can fix almost anything concerning your car. The also communicate very clearly what they are doing, or what they have done on your car. I highly recommend them!
Jack H.
As a single woman, I've had some experiences with car repair shops that weren't wonderful. I've overspent for repairs when I trusted the wrong folks and had repairs done in the past that weren't needed. Auto repair shops are notorious for taking advantage when they think the customer is not knowledgeable about their car and repairs.
Once I found Bee Line, I was so happy. I knew I found a shop I could trust. They will NOT do a repair on your car unless you absolutely need it. You can bank on it. Their prices are fair and the service is great. I trust both of my cars to Bee Line.
K.L. ABQ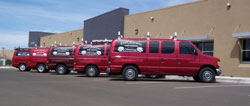 I'm Michael Galaviz with Four Seasons Cleaning Services, LLC., and we have been serving Albuquerque for over 28 years. This means that I have tried several auto repair services over the years. Bee Line Automotive has been the best. Let's face it, no one wants to be in need of a repair or maintenance. When needed, I feel very lucky to have a shop like Bee Line Automotive to turn to. With a fleet of work trucks that are constantly on the go, we rely heavily on their expertise. If our trucks stop, then our business stops. I trust Mark and his staff to keep us going.
Michael Galaviz
I'm Eric Maxon, owner of Steward's Plumbing. We are celebrating decades of successfully working in our community. Our success can be attributed to being passionate about plumbing, heating, cooling and drain cleaning. As well as performing high quality work and strong partnerships. We always look for quality, honest partners to work with. We began working with Mark and Beeline Automotive a number of years ago. Mark has always been honest, hard working and has our best interest at heart with all his recommendations. It has been a pleasure to have this relationship! They make getting our trucks repaired, painless!
Eric Maxon